The Best Artificial Grass Dubai – Low Maintenance & Beautiful
Looking for the best artificial grass in Dubai? Then you have come to right place, we provide the highest quality grass at reasonable prices. Our team is passionate about helping customers find the right product for their needs. We also offer delivery and installation services to make it easy for you to install your new turf quickly and efficiently.
We Are The Leading artificial grass supplier in Dubai
As the leading turf company in Dubai, we take pride in offering high-quality synthetic turf products. Our years of experience and dedication to excellence have made us a trusted source for homeowners, businesses, and contractors throughout the region looking for the best artificial grass in Dubai. Our products are designed to enhance the beauty and functionality of outdoor spaces.
At our company, we understand that every customer has unique needs and preferences when it comes to their outdoor spaces. That's why we offer a wide range of artificial green grass products, each with its own set of features and benefits. From pet-friendly turf to sports turf, we have the perfect solution for any application.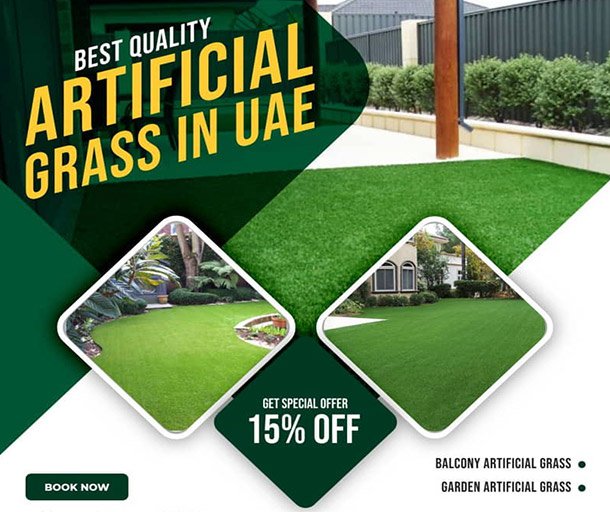 We Provide Superiorly Manufactured Artificial Turf Dubai
In Dubai, we offer high-quality artificial turfs. Our turf is produced using the latest manufacturing techniques and technology, ensuring that it is durable, long-lasting, and looks just like a green lawn.
We take pride in providing our customers with the best possible artificial grass products, and we are committed to offering superior quality and craftsmanship. Whether you need turf for your home, business, or sports field, we have the right solution for you.
We believe that everyone deserves the green grass for their outdoor space. Our green grass carpet is a functional and beautiful option. As an artificial turf company, we offer top-notch installation services to help you achieve the outdoor space of your dreams.
We Have Plenty Of Special Offers On Artificial Grass Products
Dubai Artificial Grass is the most renowned brand for all sorts of astroturf products in the UAE, and you can shop completely on a budget from here. We provide the finest quality fake grass at affordable rates for every setting. In addition to that, the pricing for our installation and fitting services is ideally low, and you can get all your desired interior and exterior spaces enhanced dynamically.
Get in touch today and make the most out of the amazing discounts available on all artificial lush green grass flooring products!
Our Artificial Green Grass Perfect Solution For Your Outdoor 
Being the no.1 brand in UAE, we provide all the flooring solutions to our beloved customers so that they could get satisfied to the fullest. We are a reliable artificial grass company Dubai, presenting its high-class range of fake grass carpets to add some glorification to your space. Our endearing fake grass comes at an affordable price and levels up your special place with its appealing appearance.
If you are looking for the best grass to replace your outdoor flooring or enhance the look of your place, then our synthetic grass is perfect for you. Our grass is beautiful, durable, and made with high-grade material. It feels soft under your feet and creates a peaceful environment. With our artificial grass Dubai installation services, you can easily install it in your outdoor space without worrying about any weather damage.
Benefits Of Having Artificial Grass

There are several benefits of our artificial turf, synthetic turf, and turf mat. Here are some of the most significant advantages of our thick turf lawn.
Low Maintenance: It requires minimal maintenance compared to natural grass. It doesn't need watering, mowing, fertilizing, or weeding, which means less time, effort, and money spent on upkeep.
Saves Water: Since it doesn't need watering, it can save significant water. This is especially important in areas with water restrictions or droughts.
Looks Good All Year Round: Unlike natural grass, which can turn brown and patchy in the winter months, it stays green and lush all year round, providing a beautiful, low-maintenance lawn.
Durable: It is highly durable and can withstand heavy foot traffic, pets, and harsh weather conditions. It's also UV resistant, which means it won't fade or discolor over time.
Overall, the benefits of artificial turf make it an excellent choice for those looking for a low-maintenance, environmentally friendly, and long-lasting alternative to natural grass.
Our work experience
is 24 years
Hire Us for Top-notch Installation Services for Artificial Grass Dubai
We welcome you to an entirely new world of innovative products and accessories like landscape grass that is best for vast areas. Our grass for outdoor areas can withstand harsh climates like heat and cold. You can place turf in heavily trafficked areas, and it will still maintain its shape.
Just imagine the hectic cleaning and maintenance of the natural grass. That is undoubtedly a difficult task to do. And people with a busy schedule who can't take care of their lawn grass daily can buy artificial grass Dubai online. It is the best way to stay in touch with nature.
If you are seeking a trusted company in Dubai that provides you with the best artificial turf installation services, then we are the ideal choice. Our artificial turf has a flat surface made of synthetic fibers that resemble natural grass. You can place this artificial turf in residential areas and commercial sectors in Dubai.
Order Artificial Grass From Anywhere in Dubai
Why Choose us?

We at Dubaiartificialgrass.ae provide our customers with fake grass made by skilled professionals and innovative techniques, with water drainage systems that never block the water during rainy seasons. Our flooring solution is easy to maintain, manage, and clean.
We provide perfect solution "artificial grass Dubai" to go for in harsh weather like rain, compared to natural grass, which becomes muddy and irritatingly filthy in rainy weather. Our grass is available at affordable rates and is a comfortable flooring solution.
Our grass will certainly provide you with dry grazing patches, even during wet seasons. So, make an appointment online to buy fake grass in Dubai and enhance the outlook of your home.
Frequently Asked Question
How much does astro turf cost?
Various synthetic grass models and forms are on the market today, with different price points impacting the final costs. Installation is charging about 15,600 USD for the average homeowner who plants 1,200 square feet of artificial turf grass.
How Long Does Artificial Grass Last?
With proper maintenance and adequate measures, artificial turf can easily last for 15 to 20 years. But the quality of the artificial grass carpet also influences its life span. If you purchase high-quality fake grass, then it will not get faded and will serve you for a longer period of time.
Can I lay artificial grass on soil?
There is no problem with laying artificial grass on the soil. The process is similar to the installation of artificial grass, but the surface preparation is different.