#1 Artificial Grass Dubai Supplier and Installer
Best Quality Artificial Grass Dubai
Do you want to Install fake turf in your home and office but are quite perplexed to take this very plunge? We are the Best artificial grass Dubai Installation Company in the UAE. And thus, we assure you that once you visit us, whatever repercussions you have regarding the use of astroturf, shall all be perfectly clear!
We provide our customers with the best quality services and the finest products. Our fake grass carpets are made using the best quality synthetic fibers. These fibers are extremely durable and have high tensile strengths. That is the reason, they are efficiently able to battle all the derailing weather conditions, without creating any sort of issues for the consumers.
For the first time, we are supplying artificial grass Dubai for all time endeavors in order to bring the best of British client administration to the United Arab Emirates.
We shall be your leading partners in this remarkable journey as we have the capacity to direct you through your fake grass travel and furnish your place in accordance with all the necessary directions, having you settle on the chicest choice of synthetic grass. We are the leading Residential, Commercial, and Sports Grass Supplier and Installer in UAE. Our exclusive work and demonstrable skills represent themselves in the most magnificent and superlative of ways.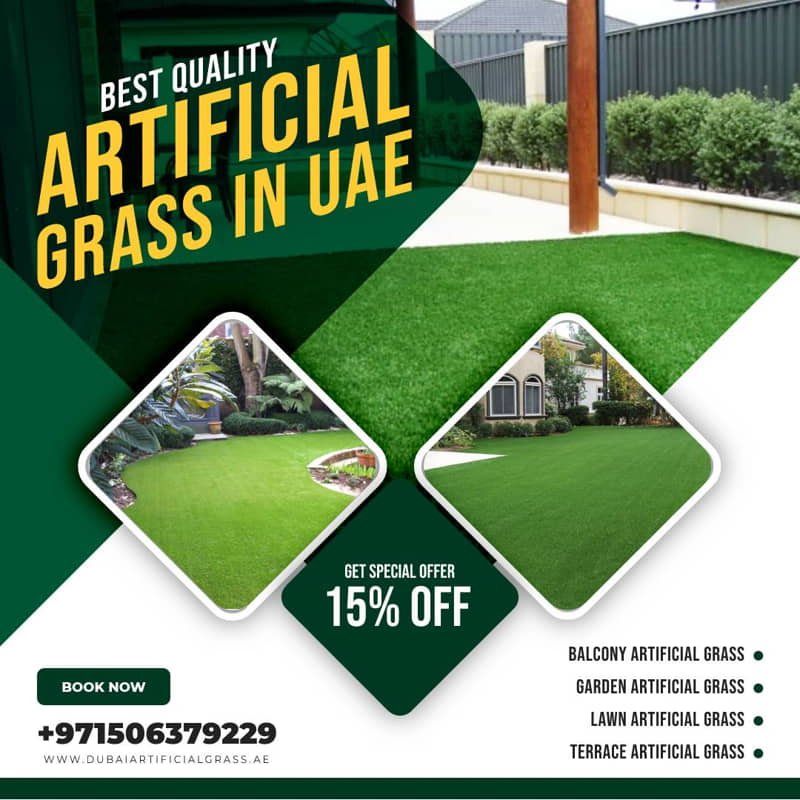 Top Rated Artificial Grass Dubai Supplier
We are an organization with an astonishing involvement of more than 30 years in the synthetic grass in the Dubai market. It was established and is headquartered in Dubai, UAE. We are the no-1 grass Shop in Dubai.
We've ranked ourselves on our immense experience picked up from more than three decades in the synthetic grass showcase, in Dubai, as well as all over the UAE. We are the top-rated artificial grass Dubai supplier, providing professional installation service at a reasonable price.
Therefore, When you decide to buy synthetic grass, then you must consider the factor of where to buy the best cheap fake grass. Since Dubai has become a global hub with all kinds of suppliers from all over the world so there are many Artificial grass suppliers at hand. We, as one of these suppliers, provide the best quality of Fake turf at various price ranges.
We are one of the leading suppliers and installers of Grass in the UAE. It's our foremost aim to constantly strive for excellence by making our fake grass closest to the ultimate perfection. Our astroturf is popular in Dubai as well as all over the UAE.
Affordable fake turf Installation Services in Dubai
Dubaiartificialgrass.ae has a full-time research and development team, that is always working over new projects and introducing incredible products. We understand that the relentless heat in the Middle East is a significant factor that is widely faced every day, therefore all of our artificial grass Dubai products have a UV defender applied to them so that they can withstand the intensity of the sun's rays most effectively.
Apart from the UV defender, all of our fake grass products are lead-free and don't contain any harmful chemicals too. Our synthetic grass prices are extremely affordable.
Every day we strive to bring the best of British customer service to the Middle East so sit back, relax and we'll make your fake grass experience the most smooth and enjoyable one.
In the event that you've come this far, it presumably implies that you're considering having this grass introduced in the UAE. Being the Leading Bermuda artificial grass Dubai installer, we comprehend what a major choice it is to influence the jump to counterfeit grass and we do take care of you in this entire journey.
How to decor home and office with Artificial grass Dubai?
There are a number of convincing facts that support the use of artificial turf in Dubai. First and foremost, it is much easier to maintain as compared to natural grass. You do not need to water it or add fertilizers to it for maximum growth.
These grasses are artificial hence they do not grow. That's why there is no need for you to take the fatigue of cutting it yourself. You can also save money by avoiding splurging on an expensive lawnmower to cut your grass. The grass is not natural hence it cannot house any harmful insects and worms.
That way our artificial grass Dubai is child-friendly and perfectly safe. You can let your kids play on it, as well without worrying about them getting bitten by bugs. In addition to that, by installing it you also cut back the cost of spending on pesticides and insecticides.
The age of the fake grass is very long and it will keep looking fresh even years later. That is why it is the best choice of carpet for all the busy people with very tough schedules. It requires minimum care yet stays in its pristine condition.
What are the benefits of using grass carpets in Dubai?
You can obviously reap a number of benefits by using our fine-quality artificial grass Dubai. First of all, if you have a pet that is very active such as a dog, then you should definitely go for it. Dogs are outdoorsy animals and love to play outdoors, especially on grass.
By installing these grass carpet Dubai, you can obviously win the heart of your lovely dog.
We are sure the toothy canine grin of your dog will be worth the experience! It is the perceived notion that all outdoorsy animals love grass. Hence, that way you will be able to not only make your pet happy. In addition to that, you will be able to cut down all the extra effort that comes with the maintenance of the real grass.
Why Artificial Grass is Better Than Natural Grass?
Who does not like any type of greenery or grass in their homes! The answer to this question is that obviously everyone wants to have it. Keeping in view the tiring maintenance of the natural grass proves to be a much convenient option to get yourself connected with nature. You can have this artificial grass Dubai installed at both your home as well as offices.
Natural grass requires considerable effort in order to maintain its beauty, otherwise, it tends to look unpleasant very soon. Fake turf will have you get rid of this major concern. Moreover, natural grass needs to be regularly watered as well as mowing too. You also need to add fertilizers to it at specific intervals in order to ensure its maximum growth. This is the point, where our best synthetic turf comes into play.
It is actually a flat surface of synthetic fibers that resemble natural grass. You can use Artificial Grass Dubai in both residential areas as well in commercial sectors. If you are unaware of its benefits, you can read them by using this artificial turf in your home and office.
It is actually a flat surface of synthetic fibers that resemble natural grass. You can use it in both residential areas as well as in commercial sectors. If you are unaware of its benefits you can reap them by using this artificial turf in your home and office.
Why Choose Dubai Artificial Grass?
We provide easy-to-use fake grasses. Our artificial grass Dubai is installed through adept professional techniques along with effective water drainage systems. This way, it never blocks water within itself even in rainy seasons.
Natural grazing is muddy and becomes very imperfect and irritatingly filthy in rainy seasons. However, this astroturf will certainly provide you with dry grazing patches, even in wet climatic conditions. dubaiartificialgrass.ae welcomes you to a whole new world of exclusive items and accessories designed for your property, business areas, and playgrounds.
Our extensive line of products includes artificial grass Dubai and the loveliest grass carpet for a warm welcome of your valued guests. Besides, our products seamlessly adapt to your dimensions, design requirements and are available in all color shades in order to meet your diversified needs.
So, Ladies and Gentlemen if you want to have a touch of nature in your home then do come to us. We will adorn your beautiful home and office with our fine quality Artificial Turf. They are very trendy as well as easy on the eyes. Hence, if you want to beautify your home with Artificial Grass Dubai then quickly contact us.
Recently Ask Question
Various synthetic grass models and forms are on the market today, with different price points impacting the final costs. Installation is charging about 15,600 USD for the average homeowner who plants 1,200 square feet of artificial grass turf.
Artificial grass Dubai is the best synthetic grass. It gives a beautifully soft and plush feeling under your feet. No weed killers needed for tearing, fertilizing, or toxic for artificial grass Dubai.
Enhance the landscape of your foundation
Lay weed barrier
Cut turf
Lay turf
Protect turf
paint or cut lines
Love your artificial grass lawn!
Yes, you can lay artificial grass on the soil. The process is similar to the installation of artificial grass, But the surface preparation is different.